. Drama . Romance . Ages 16+ .
Sometimes no matter how much you love someone, you cannot save them from themselves.
​
An otome VN game from Eternal Ninja Gaming.
​
Akemi, a normal girl trying to navigate the trials of life, finds herself trying to save the people closest to her. But what happens when you cannot save someone you love from themselves?
​
With 4 individual route paths, stemming from a fateful train journey. Each potential love interest has inner struggles Akemi must help them to overcome or be swallowed by grief.
Kiyo, Shinji, Haru and Sei have very differing personal backstories and difficulties, will you help them, or will you fail to save them?
​
As each romance progresses you will see each individual soften and trust you, or they will push you away and your love will end in tragedy.
​
Each route has 2 different outcomes from your choices, will you lose them, or will your love survive?
​
Although the game is set as a 'School' setting, the ages are ambiguous as age of consent differs from country to country, all characters in the game are adults over the age of consent.
​
​
We've been busy working on some stylized artwork in this game, forgoing full coloured BG's with some beautiful watercolour styles.
​
Below are some compilations of BG's to give you a little insight to our current artwork process, and promotional chibi.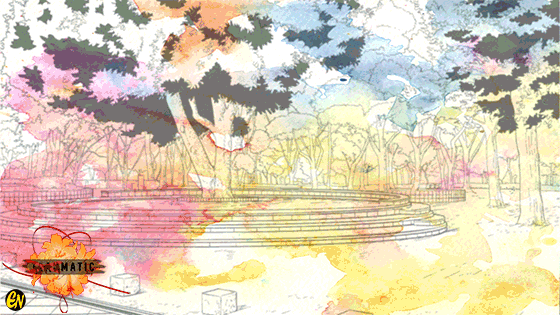 The game is currently in progress using the Unity engine, as a game for PC to be released on Windows and Mac.
​
The game's age rating is 16 and up, as there are serious mature themes unsuitable for people below age 16.
​
The game has some stunning visuals, with high quality BGs and stylized CGs.
​
With a shared prologue, each character has their own individual paths to start their stories, so you start by choosing a colour train line.
​
The CGs can be viewed after unlocking them in-game, with a gallery accessible from the menu.
​
Introducing the 4 main love interests.
​
Who will you choose? The shy type? The brusque type? The flirty type? Or the manipulative type?
​
See which man snatches your attention below!
Donations and Fundraisers
Be a part of our project and help make our dream a reality!
All proceeds helps go towards paying for things like stunning CGs, licensing brushes and sounds, custom coding and beautifully composed music.
Any amount is greatly appreciated, even spreading the word about EN and it's projects on social media, it still helps towards the funding of the project.
​
We will be putting up -T-D-M merch on our store, and all proceeds from those go towards the current project and future projects.
Please click on the donate button below to donate any amount you want, it all helps to go towards furthering the game and making it the best it can be.
​
The EN team is currently working as hard as possible to update all of our social media pages and answer any and all questions anyone has about the game.
​
If you have a question or just want to know more, please have a look through our site or head over to the contact page to find out how to contact us!
​
Promotional Wallpapers are available for download below!
​
Wallpaper dimensions are 1600x900.
​